How to make Venetian Tiramisu with FIVE ingredients!
If there's a recipe in my head that screams quintessential Italian, it's Tiramisu.
My late Grandmother used to make it on special occasions, and would tweak with the recipe depending on who was coming for lunch: she would add a bit of liqueur if it was adults only, or would leave it plain if us children were coming around. Sadly, she passed away before we could fulfil our promise of transcribing all of her recipes, so I never got the chance to ask her how she made her Tiramisu.
When we visited Venice in early February for a long weekend trip, we decided to try Airbnb Experiences for the first time. We had heard about it through friends who had recommended activities for our (now cancelled) upcoming trip to Madrid, so we started investigating what was out there in Venice.
As we scrolled through several cooking classes, one of them stood out to me immediately: Luca's Venetian Tiramisu class. And what a perfect opportunity to learn a dessert that had touch my heart so many years ago!
Our experience with Luca's class was great from the get-go.
When we met Luca at Ponte delle Guglie before the class, we knew we were in for a treat as we would get to eat our creations, but we didn't know how great that afternoon would turn out.
Luca shared with us the story of the neighbourhood and how the dessert came to be. Tiramisù means "pick me up" in Italian, and comes from the sentence "Time Su" in Venetian dialect. History says that Tiramisù came to be in the 1800 and since then it has become a staple in dinner tables.
As we put our aprons on, he walked us through the ingredients. To my surprise, there were only five – eggs, sugar, mascarpone, Savoiardi and coffee.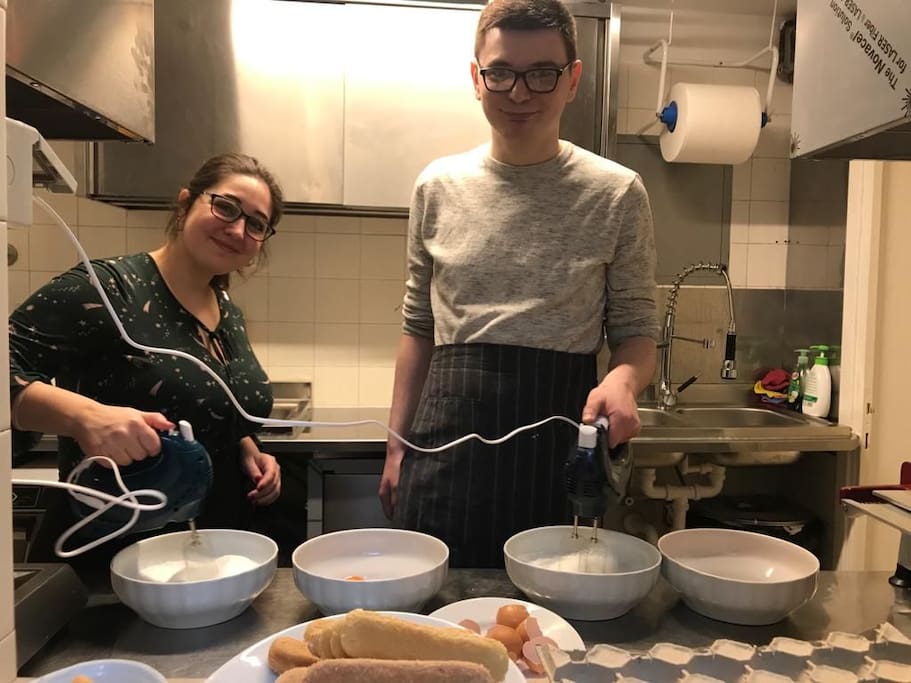 We launched into learning mode, and Luca guided us through every step with flexibility and lots of creativity. After laughing and talking for 40 minutes straight, Tim and I were the proud owners of several servings of Tiramisu.
Have you ever heard anyone say that food can trigger memories? Eating the tiramisu we made that day instantly transported me to my Grandmother's kitchen all those years ago. We left the cafe with full bellies and content hearts.
Are you wondering how to make the Tiramisu at home? 
I got you – check out my IGTV video that covers the whole recipe step by step. If you want to make it boozy, feel free to add some liqueur.
This is the first video in my #travelfrommykitchen series. If you decide to make it, do tag me on Instagram and let me know your thoughts in the comments!
Do you want to try an Airbnb experience for the first time? Use my link* and get £9 off your first experience booking of £36 or more. Or, if you've never used Airbnb, you can get £25 off your first stay of £160 or more!
*  Just a quick one before you go – this post contains an affiliate link. If you click on it, I will receive a commission/company credit. I will only ever share affiliate codes for products and experiences I've tried and loved myself. Using my affiliate link doesn't cost you anything, but helps me run the blog and keep creating more content!